Once and a while an event comes to your attention and fascinates you to the point of luring you in, you just have to do it. Beat the Main was such an event for me.
Beat the Main is a yearly time trial held in Montreal that starts at the south end of St-Laurent Boulevard (The "Main") on de La Commune and stops at the very north end of the Island passed Gouin. This street is mostly a 2 lane one way commercial street that opens up in the North end and becomes both way traffic. The total distance is 11.5 km. This time trial is run on a Sunday afternoon...in traffic.
Yes you read it right, in traffic, with the potholes, traffic lights and the world famous insane drivers of Montreal. See this time trial isn't organized by a big racing body, it came to be when a few courriers decided to challenge each other at who would cross the island shore to shore the fastest. Since then it has been run 7 times. This year was the 8th and I got the chance to find out about it 6 days before the chosen date.
I had planned to run it in 2009 but got stricken by a heart attack and last year I found out about it after the fact. Even though my chances of beating the standing record of 16 minutes and 10 seconds are the same as getting a date with Angelina Jolie, I had to do it and find out what I was made of. My first goal was to take it easy and actually finish.
I chose the only bike in my fleet that could come close to completing such a task, my 1958 Raleigh Sports. It weighs in at 29 pounds, runs the original steel cotter pin cranks (I love those cranes on the chainring) and apart from some fresh grease, the original bottom bracket bearings, cones and cups. I had changed the wheels to new 26 inch rims with 26 X 1.5 slick tires. The gear ratio is 48 to 18 on a single speed coaster hub and the chain is slack. Nowhere near an ideal ride but the best I have at hand.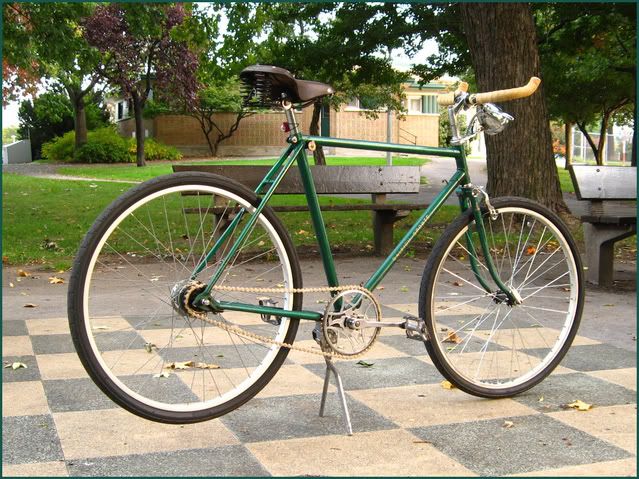 My preparation before showing up at the starting line was checking tire pressure that same morning, making sure that the wheels were turning freely and true (
Heeding my own advice
) and finally packed enough tools and parts to keep
Murphy
at bay. Since I'm a mechanic, I can guaranty you that I'll get a flat if I don't have everything I need to fix one. No I didn't bother to train, well yeah I took a long walk the day before.
At the starting line it was a gorgeous day with the wind blowing North, perfect. Everybody was in a great mood and it seems that we had a great run ahead of us. We were assigned starting positions for our timed start, one every minute. I was going to be the 32nd one off out of 50. While I was strapping my helmet and checking my bike one last time, I remembered the words from my friend Jeff: "Don't go all out on the first hill, you have a way to go, save your energy." Sarah behind me wished me luck and a safe ride. I wished her the same and started my stop watch 5 seconds before the start. I guess I could do it between 30 and 40 minutes.
"...5..."
Man there's a lot of people out today. How are you going to negotiate that?
"...4..."
Check for oncoming traffic, plan ahead for the start.
"...3..."
The first intersection is a no right turn, guess I'll hug the curb.
"...2..."
Breathe.
"...1..."
Great clear intersection.
"GO!"
I get up on the pedals and hit the first hill right off the start. I'm not exploding off the line, I'm getting a feel for my legs and the bike. Surprisingly the British High Tensile Steel beast climbs easily and my legs are quite responsive. At that moment I decide that I'm going for 30 minutes. Up the hill over the hump and down the bowl to go across Chinatown. A red light with lots of traffic at the very bottom of that hill kills my momentum.
Off the line and up Chinatown, my legs start to go and I'm concentrating so hard to keep going that I don't even see the surrounding beauty of the place(As of this writing I still can't remember the Chinatown leg!?!). I manage to get up to speed again and blast through Ste-Catherine heading for the worst hill of the course, Ontario to Sherbrooke.
My legs totally give out halfway up. I jump off the bike and start walking up at a fast pace, I don't want my heart rate to go down. Back on the bike at Sherbrooke I go for the long climb that stretches out to St-Viateur. You have to realize that Montreal is a hump and the top is at about St-Viateur, it's mostly all downhill from there. While climbing through the Plateau I realize that I'm getting very tight tunnel vision. I'm concentrating too much on the pain in my legs and not enough on what's coming ahead of me. I force myself to widen my field of view and watch for car doors like a hawk. Luckily, none will open during the trip. I clear all the lights in that stretch and now I'm over the hump.
I blast under the train tracks not even feeling the small climb back up on level ground, I'm entering little Italy. I look at my watch and I see that I'm 17 minutes in this thing. I decide right there that I can beat 30 minutes, the speed demon as a hold of me. The Café's, terraces and sports bars are all a blur to me. I slalom through cars at a high rate of speed. A car decides to turn into the left lane and an SUV wants to go into the right lane at the same place. I fly through this instant funnel bringing my arms in to clear the mirrors of both vehicles. I see the gates marking the end of the well known neighborhood and pray for a green light at the upcoming major intersection, Jean-Talon. I get my wish with a twist. It's green all right but I happen to blast right in front of a cop car coming out of a gas station and he's going North. Sure enough the next light is red and he's behind me, gotta stop. $?*&% !!!
I blast off the line and give it everything I got. The pain in my legs and my burning lungs are down the list of priorities of my senses. I gotta clear the next big intersection, 2 sets of lights that cross under the main highway. I'm far away and I see them green. I can't get caught there, if I do I lose too much time. I find energy I didn't know I had and push the Raleigh into another Universe, one that the people at Nottingham never planned for. The bike feels like it's shaking itself apart and I pedal so fast that the slack chain is pulled off the chainring teeth by the centrifugal force! I slack off the RPMs after I barely clear the second set of lights and it settles down.
Now I'm entering the commercial and residential sector of the Main. The streets are wider and clueless drivers abound. My brain is like an AWACS aircraft and all the crew is working overtime. My eyes are everywhere to clear intersections and momentum is making me run out of bike. Yelling and screaming myself to a frenzy, I'm pedaling faster than the wheel can keep up with and the chain still wants to come off if I don't watch it, she has no more to give. I'm clearing the second to last intersection and the time sits at 27 minutes, I'm going to make it...
I've got this beast by the tail and all that stands between me and the finish line is one last traffic light. It's 2 blocks away and it's red. After that it's a free run to the end. I calculate that by the time I get there, it will change. I calculated wrong. I'm coming in at full speed when I finally see what the other side of the light is, one and a half car length away from the stop line. It's not even yellow, it's green with a ton of oncoming traffic! For the first time during the entire run, I lock up both wheels and stop right at the line without going over the bars.
Sure enough, a second later it changes and I explode off into a sprint with every ounce left of energy that I got and some that I don't. The only thing that makes it to my brain is the cheers of my friends and family waiting for me to cross. I somehow found a way to show off at the end and lock up the rear wheel into a skid at the finish, dump the bike, walk off and fall on my ass. I made it.
Official time, 29 minutes and 57 seconds. 49th out of 50 and under 30 minutes for an untrained, 46 year old, better than average recreational cyclist, I consider that I did beat the Main.
I wish to extend my thanks to all my cycling friends who made this fantastic life experience even more enjoyable. You are all a great bunch of people and it's always a great pleasure to ride with you. Thanks as well to my friends and family who showed up to cheer me on despite some morale objection to my endeavor. Will I do this again? I'll be thinking about it for the next year but even if I do, it will never be as exhilarating as this one was.
and download
my free bike maintenance book
if you haven't already.
Until next time, ride safe and free.
Gerry :)