Ok, this post is not about how to do anything. It's just about me proudly showing off my new acquisition. A very good friend of mine called me 2 days ago asking if I wanted an old ladies CCM bike from the 40's or 50's. Didn't have to think long about that answer especially since it was free. I always wanted one of those long swooping top tube ladies bike for my collection, to the dismay of my significant other (sorry babe).
I was able to date the bike using the serial number code. You can see the list below that I found courtesy of
drumbent.com
. Now I don't now if the series goes beyond 1960 in the same fashion, so if anybody out there knows, please fill us in and I will update this post.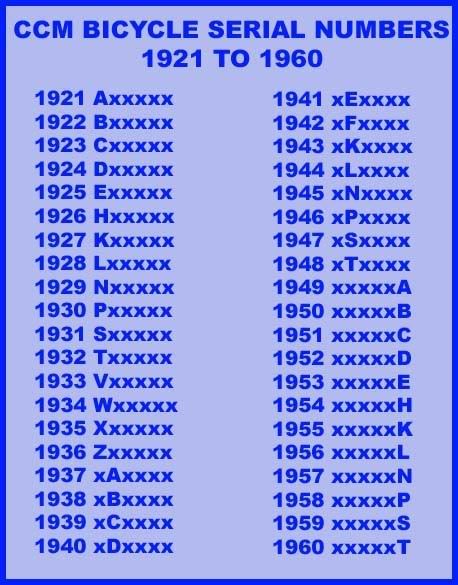 Although built in 1950, the bike is a prime example of late Victorian era bicycle design built for ladies who wanted to go about in those nice big skirts. A lady would just not be seen wearing trousers in those days for any reason. The big swooping top tube made stepping through the frame very easy. Another feature that was found on those ear;y bikes was a net fixed to the rear frame and fender to prevent the skirt from ending up in the wheel spokes. A nice big whicker basket up front would complete the vintage ride.
The bicycle was a big part in the emancipation of women in the late 19th and early 20th century. No longer did a woman need a man to prepare a horse and buggy. The bike was ready to go any time and didn't need any feeding or cumbersome maintenance of the veterinarian or stinky kind. Took up a lot less room as well. All of a sudden, women could go anywhere in town and at a faster rate than walking.
My plans for this bike are not set in stone yet. I really don't have any big ideas. However, I know for a fact that I will not touch the finish of the bike. This rusty used up look gives it character. The wheels are completely gone but the front and rear hub can be laced to another rim since they are of the 36 spoke variety. Hope this post helped to at least inspire someone and motivate them to bring back an "Old Girl" back to life, or any bike for that matter.
Til next time, ride safe and Godspeed.
Gerry :)